This week the children enjoyed their first full week in P1. It was a fantastic week of learning and we are all now utterly exhausted!
There were so many new experiences to be had! We started with Swimming on Monday. The children used their
Resilience
 in the pool and kept going even if they were scared or tired! If you are a Zima or Strawberry Hills Resident, we encourage you to come to school with your swim suit on after lunch, in order to reduce changing times. Olympia residents will change at the pool.
They enjoyed the new experience of attending Russian Language lessons with Miss Ok-Sun on Tuesday and Friday mornings and already added to their impressive Russian Vocabulary. 
They thoroughly enjoyed The PE session on Wednesday morning, swinging on the ropes, jumping two feet together through hoops, throwing sacks into hoops and

balancing

 on the balance beams. The children used great
Communication
 skills to listen carefully to the instructions.
On Thursday morning the children enjoyed our library session and it was wonderful to see that EVERYONE remember the blue book bags! Well Done!
Looking forward to next week...
The children will continue the mini - all about me unit. We will start to share our learning with nursery in the afternoons (Tuesday, Thursday and Friday), participating in lots of learning tasks that will help us explore the week's BIG QUESTION... Are we all the same?
We will focus on the Personal Quality Morality and explore this through the story "The Selfish Crocodile". We will use Cooperative Learning Structure Hand Up, Stand Up, Pair Up to share our thoughts about whether the crocodile made a Good Choice  or a Sad Choice.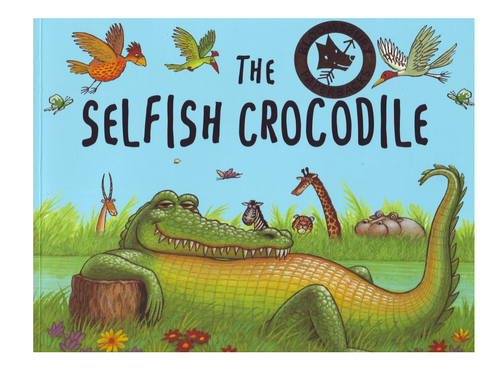 You can listen to the story by clicking the link below.
IMPORTANT INFORMATION:
    I am away on Monday-Wednesday attending a First Aid Course. Miss Tricia will be covering the class. I will be back on Thursday morning.
I hope to see you all at the Parent Information Evening on Wednesday Evening.